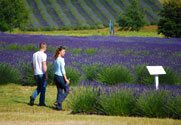 Although the best time to see the fields in full bloom is July-August, there are many things to do at the farm May – October. We would suggest allowing at least 1-2 hours for your visit. During your visit be sure to…

- Stroll through our organically certified fields.
- Browse the over 240 lavender products we handcraft on the farm at our Gatehouse Farm Store.
- Explore the Demonstration Garden where we cultivate over 50 different varieties of lavender.
- Educate yourself at the Visitor Center which features multi-media exhibits covering the history of the farm, lavender cultivation, processing of essential oil, and the many roles that lavender has played in cultures throughout the world. Audio Tours of the farm are also available.
- Experience the Craft Workshop where you can make your own beautiful lavender crafts.
- Harvest your own organic lavender bouquets in the Cutting Field.
- Take home some lavender plants for your own garden from the Nursery.
- Bring a Picnic to enjoy at our breathtaking picnic facilities and be sure to add some of our lavender lemonade, iced tea, ice cream or cookies!

Take a look at the farm via our live webcam? Bookmark it for future reference and trip planning!

Admission to the farm is FREE.
Parking, restroom and picnic facilities are available.
For those visiting November – April please feel welcome to take a walk through the fields, just be sure to close the field gate behind yourself. Please help us keep our organically certified fields clean by keeping pets and smoking outside the field gates.